Where to eat in Prati, Rome: the best restaurants and bars
Where to eat in Prati Rome. Bordering the north area of the Vatican, Prati is a calm and sophisticated area of Rome with fine eats, good shopping, and organized streets characterized by a daily business bustle. Although it's a short walk from some of the tourist highlights of the city, the residential nature of this quarter helps Prati maintain its status as a distinctly Roman neighborhood where one can find places to eat and drink that are infused with the city's tradition, but also look to satisfy a cosmopolitan palate.
Where to eat in Prati Rome
FEELING
Il Sorpasso 
With outdoor seating along the sidewalk and a cozy bar upon entry, Il Sorpasso was designed perfectly to host spirited crowds looking for good food and wine. Inside, beyond the bar, there is a small dining room where guests can enjoy charcuterie plates, pasta dishes and fresh vegetables, all prepared with local ingredients.
Il Sorpasso, via Properzio 31, Roma. Tel. 06 8902 4554 Web Site
TRENDY
La Zanzara
This large, upscale restaurant that spans for nearly a block has a casual feel due to its open floorplan and chatty atmosphere. They have an impressive wine list and a varied food menu with classic Roman offerings, salads, burgers and gourmet sandwiches. They also offer a daily aperitivo that can be enjoyed sitting outside.
La Zanzara, via Crescenzio 84, Rome. Tel. 06 6839 2227 Facebook Page
PIZZA
La Pratolina
La Pratolina is home of "la pinsa Romana", rounded rectangular flatbread pies that existed in Rome before the term "pizza" had even been coined. The recipe for it is an antique one that made its way in from outside the Roman walls, settling here at La Pratolina. They offer pinsas with white or red sauce, as well as a variety of antipasti and desserts.
La Pratolina, via degli Scipioni 248 Rome. Tel. 06 3600 4409 Facebook Page
GELATO
Gelateria Gracchi
Gracchi gives the popular Gelateria alla Romana down the street a little bit of competition with their rich classic homemade flavors and interesting combinations such as Apple and Mint, Pear Carmel and Chocolate Fondant with Grand Marnier. The line often trails out the door as guests wait in line for seasonal fruit flavored offerings as well, including lactose and gluten free options.
Gelateria dei Gracchi, via dei Gracchi 272 Rome. Tel. 06 321 6668 Facebook Page
PIZZA TAKE AWAY
Bonci Pizzarium
This glorious spot near the Cipro metro serves up elaborate pizza al taglio (by the slice). Creator Gabriele Bonci has paid special attention to the rising of the dough, differentiating it from other pizza in the city. The wide selection makes it difficult to choose which type of pizza to order – usually including 2-3 toppings – to enjoy on the go or at the tables outside.
Pizzarium, via della Meloria 43, Rome. Tel. 06 39 74 54 16 Web Site
Panificio Bonci, via Trionfale 36, Rome. Tel. 06 39 73 44 57
VEGETARIAN
Orto
This veggie and vegan friendly spot offers generous portions that are decently priced. There is an all you can eat buffet for lunch every day for 9 euros, as well as a brunch on weekends for 15. Their menu includes modified, lighter versions of Roman specialties, such as "cacio e pepe" made with artichoke cream.
Orto, via Giuseppe Gioachino Belli 142, Rome. Tel. 06 4567 8050 Facebook Page
BISTROT
Madeleine
Madeleine serves Italian, Roman and French cuisine all on the same menu. Michelin starred chef Riccardo di Giacinto presents a seasonal menu that changes every two months made from local, seasonal products. Some of the specialties include Madeleine's cappuccino, fried boiled meatballs, Casarecci in Duck Ragu and braised meat a la Borgogna.
Madeleine, via Monte Santo 64, Rome. Tel. 06 372 8537 Facebook Page
BREAKFAST
Settembrini
Settembrini is a café, bistrot, deli, and wine cellar that also happens to serve breakfast. The atmosphere is a cozy and simple one, adorned with soft cushioned seats surrounded by bookshelves. On the menu there are cornetti served with a choice of fillings, including a vegan option, Torta Caprese, donuts, and yogurt served with cereal or fruit.
Settembrini, via Luigi Settembrini 21/27, Rome. Tel. 0697610325  Facebook Page
TYPICAL ROMAN
Trattoria Da Gianni Cacio e Pepe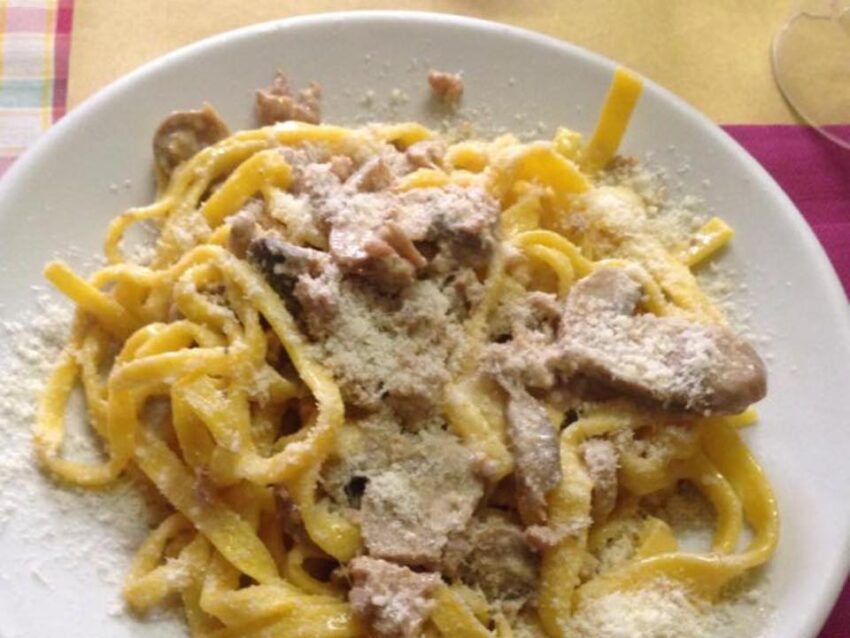 As its name suggests, this restaurant serves up Roman classics, including its namesake pasta, Cacio e Pepe. They follow Roman tradition carefully throughout the menu, offering first plates such as Carbonara, Grigia, Amatriciana and second plates of Chicken "alla Cacciatora", Veal "alla Fornara," and Potatoes "sformato."
Trattoria Da Gianni Cacio e Pepe, via Giuseppe Avezzana 11, Rome. Tel. 06 321 7268 Facebook Page
BURGER
Ted lobster and burgers
This surf and turf spot brings a bit of NYC to Rome by offering the modern combination of lobster and beef under the same roof. In addition to classic cocktails and house specials as well as craft beer and wine, Ted also serves classic American side dishes like Caesar salad.
Ted lobster and burgers, via Terenzio 12/14/16, Rome. Tel. 06 9451 7168 Facebook Page
BEER
Osteria della Birra del Borgo
The Osteria will open on Via Silla on the 22nd of March. Here, instead of the classic tradition of pairing wine with food, the focus will be on craft beer, including 24 beers on tap, some of which will be produced on site. The space will be divided up into three: a dining room, lounge, and a room for special events. The food selection will include pizza from Gabriele Bonci, mozzarella from Campo Felice, vegetables, soups and first and second plate offerings
Osteria della Birra del Borgo, via Silla 26a Rome.
JAPANESE
Zen Sushi
Zen is an authentic Japanese restaurant serving sushi and sashimi with the "Kaiten" or sushi treadmill. There are a variety of other options on the menu including tempura, seared tuna and grilled salmon, fried chicken, miso soup, udon and buckwheat noodles. The sushi is also served in boats which can accommodate different numbers of guests.
Zen Sushi, via degli Scipioni 243, Rome. Tel. 06 321 3420 Facebook Page
FRENCH
Le Carré Français
Near Piazza Cavour, this French version of a petite "Eataly" functions as a bistro, bakery, butcher, cheese and wine shop. This 600 square meter space attempts to bring a little corner of Paris to the Italian capital by upholding high standards for its cheeses, wines, charcuterie and desserts.
Le Carré Français, via Vittoria Colonna 30, Rome. Tel. 06 6476 0625 Facebook Page
STREET FOOD
Nanu
A bagel and juice bar, this street food spot caters to those looking for a healthy lunch or snack made with fresh, organic products. The co-owners, Michela and Alessandro, were inspired to open up a place with fresh fruit and vegetable ingredients after a trip to Israel. The menu offers fruit juices, homemade bagels, salads, soups, yogurts and wraps.
Nanù, via Varrone 2/C, Rome. Tel. 06 6830 1736 Facebook Page
Valentine's day Rome 2017. The 14th of February is not just any other day. So, to celebrate properly on Valentine's Day, don't miss the occasion to have dinner out with …
Avocado bar Rome, the new restaurant in Monti, serving avocado on toast, as burgers, and in smoothies and milkshakes, salads and tacos. Head there for tasty sweet and savoury dishes. In the wake of the worldwide …
Mostó Rome. The much-anticipated project has two notable key-players: Ciro Borriello, the former Maitre d' of Acquolina (who did not follow chef Giulio Terrinoni to his new restaurant, Per Me) …