Food Events in Rome April 2018: what to do and eat this month
Food Events in Rome April 2018. Dinners, tastings, and aperitivi this month in the best restaurants in the city.  There are also food events such as the festival dell'arancina at Eataly and "la città della pizza" in the Guido Reni District. Here are the things to do (and eat) in Rome in April 2018.
Food Events in Rome April 2018
Friday 6 April
Guido Reni District – La Città della pizza
From Friday the 6th to Sunday the 8th of April in Guido Reni District, La Città della Pizza 2018  returns (thanks to Vinòforum and put on in collaboration with Ferrarelle). The event boasts more than 100 pizzas from around 50 of the best pizza makers in Italy.  There will be twelve pizzerie a day – subdivided into categories: "napoletana", "all'italiana", "da degustazione", "al taglio", "fritta" and new this year "fritti all'italiana". Each will create three pizzas: a marinara or margherita, a classic pizza, and one that is dreamed up specifically for the event. This might include the Riccia e Baccalà, with steamed baccalà, curly endive, fior di latte, black olives, lemon zest, dried tomatoes and Extra Virgin Olive Oil, or the Broccoli e 'Nduja, with spring broccoli known as Aprilatici di Paternopoli, 'Nduja, mozzarella di bufala and flakes of cacioricotta di bufala from Cilento, just to give a few examples.
The schedule. Friday April 6th, from 18 to midnight, it will be possible to sample the creations of:
Graziano Monogrammi (La Divina Pizza), Giancarlo Casa (La Gatta Mangiona), Marco Rufini (Casale Rufini), Lello Ravagnan (Grigoris), Mirko Rizzo e Jacopo Mercuro, (180g Pizzeria Romana), Pierluigi Fais (Framento), Petra Antolini (Settimo Cielo), Angelo Rumolo(Grotto Pizzeria Castello), Ivano Veccia (Da Ciccio), Ciro Oliva (Concettina ai Tre Santi), Davide Fiorentini (O Fiore Mio), Marco and Antonio Pellone, (Pizzeria Ciro Pellone). Saturday the 7th, from 11 am and finishing at midnight, there will be: Gabriele Bonci (Pizzarium), Pier Daniele Seu (Seu Pizza Illuminati), Matteo Aloe e Massimo Giuliana (Berberè), Paolo De Simone (Da Zero), Salvatore Gatta (Pizzeria Fandango), Andrea Morini (Da Cecio), Stefano Vola (Vola Bontà per Tutti), Rosario Ferraro (L'Antica Pizzeria da Michele), Giorgio Caruso (Lievità), Giorgio Moffa (L'Antica Pizzeria da Ciro dal 1923), Cristiano Piccirillo (La Masardona), Simone Lombardi. Sunday April 8th, the last day, from 11 to 23, with: Ciro Salvo (50 Kalò), Ciccio Vitiello (Casa Vitiello), Sasà Martucci (I Masanielli di Sasà Martucci), Giuseppe Pignalosa (Le Parule), Diego Vitagliano (Diego 10), Edoardo Papa (In Fucina), Filomena Palmieri (Pizzeria Da Filomena), Massimo Giovannini (Apogeo), Carmine Donzetti, (Pizza & Fritti), Raffaele Bonetta (Pizzeria Ciarly), Roberta Esposito (La Contrada), Isabella De Cham. Also present during the three days are the gluten free pizza of Teresina Senza Glutine. In addition, there will be the area dedicated to the "Fritto all'italiana" and on various days during the event, you can  find: Franco Gallifuoco (Pizzeria Franco), Arcangelo Dandini (Supplizio), Salvatore Di Matteo (Di Matteo friggitoria). To drink, there is craft beer from the Piemontese brewery Baladin and, in the tastings led by the Master Sommelier fromVinòforum Academy, Italian sparkling wine from the Consorzio di Tutela del Prosecco DOC.
"Maestri in Cucina". By reservation only, lunch and dinner by special teams that will pair some of the great pizza makers together with Michelin-starred chefs. The teams include: Friday the 6th, at 21, Simone Lombardi and Luciano Monosilio (Pipero); Saturday the 7th, at 13, Ciro Oliva (Concettina ai Tre Santi) and Paolo Gramaglia (President), and at 21 Gabriele Bonci (Pizzarium) and Gianfranco Pascucci (Pascucci al Porticciolo); Sunday the 8th, ore 13, Enzo Coccia (Pizzaria La Notizia) and Pasquale Palamaro (Indaco).
Orario: Friday, April 6th 18 – 24; Saturday the 7th from 11 – 24; Sunday the 8th from 11 – 23
Cost: Free entry
La Città della Pizza @ Guido Reni District, via Guido Reni, 7 Roma
Eataly – Festa dell'Arancina
Three days dedicated to a Sicilian specialty: l'Arancina: the event runs from today through Sunday. There were be several incarnations of the quintessential street food, from classic ragù and prosciutto, to more original takes using pistacchio, sword fish and more. Don't miss the Sicilain sweets that will also be available including cannoli, cassate e granite. Here are the participants and their offerings: Bedda Matri: arancina al ragù, arancina prosciutto and mozzarella, arancina cacio e pepe, arancina speck and pistacchio (1 token); Pasticceria Siciliana Svizzera: arancina with butter, prosciutto and mozzarella, arancina with Bronte pistacchios, arancina alla norma (1 token); La Cannoleria Siciliana – Roma: arancino with ragù, arancino with Porcini mushrooms, arancino with sausage and broccoli, arancino alla norma (1 token). The Federazione Italiana will cook: arancina palermitana and arancina carbonara, arancina di Mondello (with tomato, mint, eggplant, and local swordfish) for 1 token. Antica Focacceria San Francesco: arancina with meat (ragù of beef and pork, tomato and peas), arancina with butter (with prosciutto cotto, mozzarella and besciamella); arancina alla Norma (with tomato, eggplant, mozzarella and ricotta salata), 1 token. I Dolci di Nonna Vincenza: traditional ricotta cannolo; small traditional cassata (single portions), cannolino and cassatina mignon with pistacchio ricotta, small brioche with a cup of granita (1 token); Le Sicilianedde: Pane cunzatu: Favignana: grilled octopus with wild vegetables; Panarea: caponata with calamari (2 tokens); Bread, panelle and cazzilli (1 token); Bread, panelle and mortadella di suino nero (2 tokens). And for those who want to learn how to make arancine, instead of only eating them, there will be a cooking lesson on Saturday the 7th from 19 to 20:30 (cost 25 euro).
Time: Friday 6 April from 19 to 24; Saturday the 7th from 12 to 24; Sunday the 8th from 12 to 22
Cost: Entry is free; Tastings are paid for with tokens where 1 token = 3,50 euro, or purchase a deal to get 6 tokens 20 euro; 12 tokens for 37 euro.
Eataly Roma Ostiense, Piazzale XII Ottobre 1492 Roma. Tel. 06 9027 9201
Saturday 7 April
Latteria Studio – Family Market Cooking Class
Join a seasonal cooking class for a special Saturday session of Market to Table at Latteria Studio in Trastevere. The day begins at the Monteverde Vecchio market, to sample some foods and select ingredients for the day. Back at the light-filled cooking studio, Alice Kiandra Adams and Carla Tomasi will lead the family-friendly class in creating traditional Roman vegetable dishes, fresh pasta, focaccia, and more.
Time: From 10 to 14:30
Cost: 130 euro, or 140 for a parent with a child
Latteria Studio, Via di Ponziano, 29
Sunday 8 April
Pigneto 1870 – HC Food: Dolciotti & Viglietti – Il mare nella terra A/R
Hardcore Food Ep.3 – «Il mare nella terra A/R» is the third in a series of events at Pigneto 1870 dedicated to rediscovered authentic flavors. With Massimo Viglietti, the menu is dedicated to the best ingredients from land and the sea. Featuring: rice, potatoes and mussels (Dolciotti), cacio e pepe Muzio Scevola (Viglietti); Shabu shabu of tuna and pork, radishes and mushrooms (Dolciotti), Marinated grouper with an olive tapenade and white chocolate (Viglietti), risotto with herring, spinach, lemon and cacio cheese Martino (Dolciotti), lamb flavored with anchovies (Viglietti), plus coffee, with orange and hazelnuts (Dolciotti).
Time: 20.30
Cost: 45 euro (drinks not included)
Pigneto 1870, via del Pigneto, 25, Roma. Tel. 06 702 1401
Monday 9 April
Porto Fluviale – Polpette e polpettone
Swordfish polpette, stuffed meatballs, vegetarian meatballs: Porto Fluviale is hosting a course to learn how to prepare the classic versions and some more creative flavors, plus to share the secrets for making them soft and tasty every time. With chef Kaba Corapi.
Time: from 19 to 21.30
Cost: lesson and tasting 45 euro
Porto Fluviale, via del Porto Fluviale, 22 Roma. Tel. 06 5743199
Giulietta – Martucciland
Francesco Martucci  from "I Masanielli" di Caserta lands in Roma. Named the Pizzaiolo of the Year according to the Guida 50 Top Pizza, and awarded Tre Spicchi from Gambero Rosso, Martucci will create a special menu Giulietta for one night only, includgin: Antipasti: crocchetta di patate and filetto di baccalà; for the pizzas: MARGHERITA: San Marzano tomatoes, Mozzarella di bufala, Extra Virgin olive oil "Koinè"; PARMIGGGIANA (3 G): San Marzano tomatoes, eggplant, Fior di latte, Parmigiano Reggiano di vacca bianca modenese, Extra Virgin olive oil "L'uomo di ferro"; MANI DI VELLUTO:  Friarielli (broccoletti) cream in acqua di bufala, Mozzarella di bufala, suino grigio Ardesia sausage, Calcagno cheese, Extra Virgin olive oil "Koinè"; NA' VOT ADDA' NONNA: Smoked provola, Potatoes from Avezzano IGP, Papaccella (Neapolitan bell pepper) in agrodolce, Cacioricotta from Cilento, Extra Virgin olive oil "L'uomo di ferro". Dessert: Frigo gelato. Wines: 3 glasses per person + 1 grappa, chosen between the 9 labels presented in the seminar.
Time: Seminar at 19 at Romeo Chef & Baker (more here: https://goo.gl/oNUgmE): Dinner: at 20:30 at Giulietta
Cost: seminar 15 euro (not for sale without booking dinner); dinner: 35 euro, wine included; dinner + seminar 50 euro, wine included
Giulietta, Piazza dell'Emporio, 28, 00153 Roma. Tel. 06 45229022
Lunedì 16 aprile
Porto Fluviale – Masterclass André Jacquart
A night dedicated to Champagne della Maison André Jacquart at Porto Fluviale. The tasting will include six of the signature wines. In addition to champagne, there will be focaccia and salumi from the kitchen. Led by Alberto Lupetti, the tasting includes Brut Experience: the label's sans année, Mesnil Experience, Mesnil Experience Brut Nature, Experience 2009: a top of the range vintage. As well as the newly released, Experience 2007 Brut Nature: the oldest vintage that is sure to be widely discussed, and Rosé Experience: the characteristic rosè.
Time: From 20.30
Cost: 85 euro
Porto Fluviale, via del Porto Fluviale, 22 Roma. Tel. 06 5743199
Tuesday 17 April
Porto Fluviale –  The Desert Pot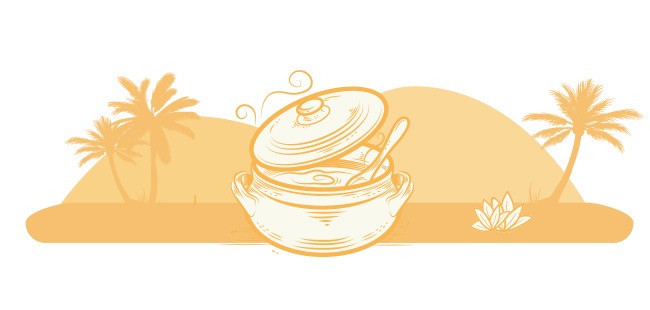 A dinner with Hamos Guetta at Porto Fluviale. The elements that Hamos Guetta uses in the Jewish-Libyan cuisine are family recipes, and memories of this land, and the flavors of childhood. The evening will be a multisensory experience, guided by authentic flavors, images, music and stories from Hamos.
Time: 20.30
Costo: tasting of traditional dishes with two glasses of wine 30 euro
Porto Fluviale, via del Porto Fluviale, 22 Roma. Tel. 06 5743199
Saturday 21 April
Pop-up – Our Secret Table
Italian-Danish foodie couple Domenico Cortese and Sofie Wochner are a chef and baker respectively. Together they will create a seasonal four-course dinner that showcases their culinary talents and highlights Rome's best spring ingredients. The one-night pop-up is the latest edition of Our Secret Table by Talea Events and the secret location will only be announced a few days before the meal.
Time: Starts at 20
Cost: Dinner is 55 euro, plus 20 euro for wine pairings
Location in Rome (centro) to be announced 
Sunday 22 April
Porto Fluviale – Family Cooking Class
Family cooking class at Porto Fluviale. Parents and children cook together, led by chef Kaba Corapi, working to create different menus. While rolling out the pasta or kneading the meatballs, learn that cooking together is about more than simply following recipes. (Class in Italian).
Time: From 17 to 19.30
Cost: one parent and one child 50 euro
Porto Fluviale, via del Porto Fluviale, 22 Roma. Tel. 06 5743199
Saturday 28 April
Villa Borghese – Roma Gelato Festival
The 9th edition of the Roma Gelato Festival will run from Saturday, April 28th through Tuesday, May 1st. Twenty gelato makers will each showcase one flavor for a chance of moving on towards the 2021 Gelato Festival World Masters competition. Tickets to the outdoor festival include a sample of each gelato, and a chance to vote for your favorite.
Time: From 11 to 19 Saturday 28 April, Sunday 29 April, Monday 30 April and Tuesday 1 May
Cost: 11.50 euro for adults, 6.25 euro for children
Salita del Pincio, Rome
The best gelato of Rome. Time has not stopped the craving for refreshing pleasures: enjoying a gelato while wandering the Eternal City has never lost its magic. And never has Rome …
Mostó Rome. The much-anticipated project has two notable key-players: Ciro Borriello, the former Maitre d' of Acquolina (who did not follow chef Giulio Terrinoni to his new restaurant, Per Me) …
Food Tours in Rome Wanted in Rome & Puntarella: Trastevere, October 26th, 2017 Brought to you by Puntarella Rossa in collaboration with Wanted in Rome, a brand new food tour that will let you discover …