Avocado mania in Rome, five places where you can eat (and drink) the fruit in gourmet-style
Avocado mania in Rome. Coming all the way from the South American mountains to our tabletops and restaurants, the exotic fruit has become famous thanks to it being packed full of vitamins, antioxidants and energy. It's versatile, healthy, and most definitely the food of the moment. Francesco Brachetti, Alberto Gramigni and Alessandro Biggi realised the fruit's potential and last April opened up the world's first Avocaderia in Brooklyn. The menu is totally dedicated to the avocado, which is either cooked or left raw to maintain all of its goodness. The restaurant is so popular that it's been featured in the New York Times and has even seen spin-offs, such as Amsterdam's The Avocado Show in the De Pijp area.
However, it's not necessary to travel abroad to taste and drink delicious avocado-based recipes, there are now many eateries here in Rome. At Er Cimotto, the long-standing Roman grocery in Trastevere, the avocado is their bestselling fruit. You can even order from them a juice made with sugar, cow's milk and organic avocado (6 euros). It's actually possible to try three different types of avocado: the organic Peruvian kind, the firmer Pinkerton kind and the Chilean Hass variety, which is more buttery and tasty but has more of an impact environmentally.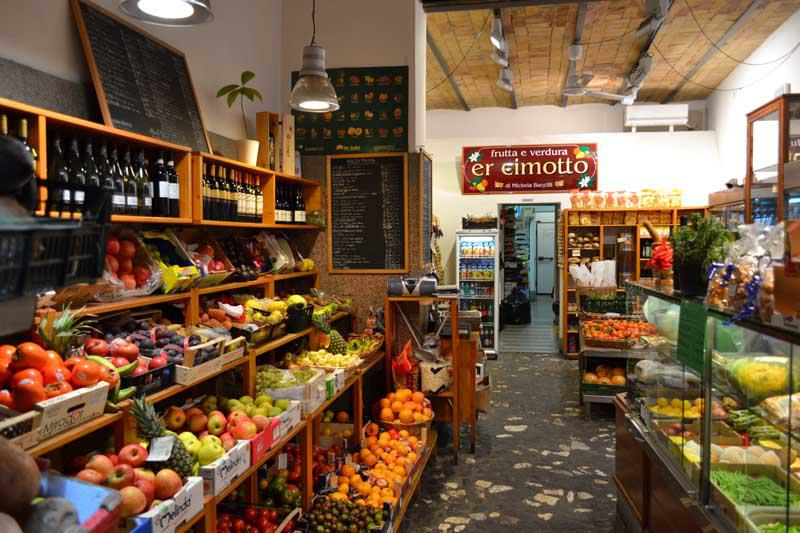 There's certainly a bit of hype about restaurants serving menus dedicated to a single ingredient; in Italy both the Avocado Bar in Rome and the Avocado Café in Milan have recently opened. Read on for a list of 5 places where you can enjoy gourmet avocado dishes.
VIA ACCIAIOLI (NEAR PIAZZA NAVONA)
Écru – Guacamole express, avocado tartare and smoothies
A raw restaurant, cafe and bakery, but also an art gallery and cookery school. In the 'raw lab' run by Veronica and Katia in via degli Acciaioli, the key ingredient of the summer menu is, of course, the avocado. For antipasti you can try the guacamole express, which is freshly prepared (8 euros), while for a main course we loved the avocado tartare that's served two ways – with Sicilian papaya, thyme and lemon balm, or with radish, raisins and thyme – and that comes with a fresh vegetable rice roulade and crackers made with wheat and sprouts (12 euro). On the menu you'll also find the raw sandwich, made with avocado, caper cream, caramelised onion and wild herbs (7 euros with raw bread or 6 euros with organic brown bread). As for the soups, you must taste the avocado gazpacho with coriander, cucumber and courgette (10), and try the avocado, cocoa and almond milk smoothie (5.50) or the avocado, celery and kiwi juice (5). Soon they will also be serving an avocado and fruit ice cream, and the recipe will be taught during the next raw cookery courses in June.
Écru – Raw & Organic Food, Via degli Acciaioli 13, Rome. Tel. 06/68804282. Open from Monday to Wednesday from 10am to 8pm, from Thursday to Saturday from 10am to 10pm, and Sunday from 11am to 8pm.  Website and Facebook.

VIA BONCOMPAGNI
Fiore Crudo e Vapore – avocado tartare and salads
Fiore Crudo e Vapore is a restaurant with an open kitchen and a lovely terrace with a vegetable garden, where you can relax and enjoy your meal during the weekend. Located in via Boncompagni, the cuisine is traditional but fuses vegetarian and raw cooking styles, giving life to organic ingredients and nutritional cooking. Fiore, which will be one year old on 19th June 2017, serves raw antipasti, avocado tartare with radish, raisins and almond crackers (11) and an avocado basket filled with white cabbage, citrus fruits and crunchy pine nuts (12). There's also a raw sea food option: prawn carpaccio served with an avocado salsa and mayonnaise (26). If you feel like a salad, try the avocado, smoked salmon, mixed seeds, sprouts of the day salad with a raspberry vinegar dressing, or the red quinoa salad with mixed leaves, rocket, chickpeas, grated carrot and red turnips, sprouts and goji berries (12).
Fiore Crudo e Vapore, Via Boncompagni 31/33, Rome. Tel. 06/42020400. Open every day from 12.30pm to midnight. Website and Facebook. 
TRASTEVERE – PUNTARELLA ROSSA
Eggs – avocado cooked at 64° with pistachios and ricotta
At Eggs, the bistro created by Puntarella Rossa and Zum in Trastevere, the dish that you see in the photo above has proved very popular – the avocado stone is removed and an egg is put in its place which is then cooked at 64 degrees (making it similar to a poached egg, but a little softer), and then pistachios from Bronte and salted ricotta garnish the tasty dish (10 euros). On the day menu there's also the avocado panino which is made with organic eggs and crunchy guanciale (pig's cheek) from Mangalica pigs (Hungarian, tender pork), (10 euros).
Eggs, Vicolo del Cedro 26, Rome. Tel. 06/581 7363. Open every day from 8pm to 11pm. Facebook 
PIAZZA SAN COSIMATO
Gelateria Fatamorgana – Avocado ice cream with lime and white wine
Not just an ice cream parlour, but also a cookery school where preservatives, emulsifiers and colourings are banned. The ice cream is totally natural and gluten-free. The brand, thought up by Maria Agnese Spagnuolo, is well known for its original recipes. There are 300 flavours to choose from, where classics like zabaione and chocolate are paired with cumin, and Lapsang Souchong tea is combined with oil and ratafia wine. As for an avocado ice cream, you can try it with lime and white wine, which is low-calorie and, as they recommend, goes perfectly with the Venezuelan chocolate. pineapple and ginger ice cream, or with the more alternative Pensiero (pear and gorgonzola ice cream). Prices: two scoops 2.50; 3 for 3.50; 4 for 4.40, 5 for 5).
Fatamorgana Trastevere, Via Roma Libera 11, Rome. Tel. 06/5803615. Open every day from midday until midnight. Website and Facebook. 
RIONE MONTI
Grezzo •raw chocolate• – Germoglio and Rawpuccino
You can't miss raw patisserie Grezzo's menu, which is the first place in the world to have created an ice cream that is entirely raw, made with only almond and pistachio milks, dry and fresh fruit and coconut sugar. At Grezzo you can order the Germoglio, a multi-layered raw dessert – the base is made with avocado reduced in cream and sweetened with agave and mint syrup, the next layer is a fresh cherry compote, and it's topped with raw cocoa and coconut sugar (5.50 euro). There's also a Rawpuccino on the menu that's made with avocado, raw cocoa from Ecuador, vanilla and cinnamon (6 euros).
Grezzo •raw chocolate•, Via Urbana 130, Rome. Tel. 06/483443. Open every day from 11am to 11pm,  and Friday and Saturday from 11am to midnight. Website and Facebook. 
Traduzione a cura di Corinna Parker
Best supplì in Rome. Supplì have long been considered a staple of Roman cuisine. Legend has it that they were invented in the early 19th century, initially served as a poor …
The coolest restaurants in Rome. Invigorated by the arrival of spring, we are now getting out of the house on the hunt for good food, wine and – of course …
Where to brunch in Rome. Read on for our picks of the best restaurants and cafes serving brunch on weekends – from Eggs Benedict to American-style pancakes.