The coolest restaurants in Rome: the addresses you should know about, from Madre's garden to Zuma's terrace to the Asian Art at Le Asiatique
The coolest restaurants in Rome. Invigorated by the arrival of spring, we are now getting out of the house on the hunt for good food, wine and – of course – trendy restaurants that juggle both gourmet food and delicious wine; from ceviche at Madre to sushi on the terrace at Zuma, read on for the ten coolest restaurants in Rome.
SOMETHING FOR EVERYBODY
Romeo e Giulietta
We have already told you about Romeo e Giulietta, Cristina Bowerman and Fabio Spada's new creation that opened in Testaccio on 13th March. Born out of an enormous converted showroom, the 200 square metre space is skillfully designed by architect Andrea Lupacchini and is home to three different eateries. There is the restaurant Romeo, run by Bowerman, where the cuisine is contemporary but also makes room for typical Roman dishes. There's la coda all vaccinara (oxtail stew) with celery coulis, and chocolate crumble, and then there's a deli and a bakery where you can enjoy pizza and bread. One part of the space at Piazza dell'Emporio is dedicated to the new pizzeria Giulietta, where those who are a little indecisive can choose between the typical round Neapolitan pizza and the crunchy Roman pizza, each prepared in a different oven. The last spot is Frigo, the gourmet ice cream parlour (known for its ice cream van found at many of Rome's local markets) that now has its own place, and even has its own entrance on via Marmorata. If you wish to stay late for a night cap or enjoy a few glasses of wine at the aperitivo hour, head to the cocktail bar, run by bartender Riccardo Gambino, where at the 24 metre long bar you can try his many creations, such as 'Acido' with rum and ginger, vinegar syrup, lemon, marsala and egg white. For those that want to have a go at making pasta or observe the tips and tricks of award-winning chefs, there are also cookery courses and 'showcooking' on offer.
Romeo Chef & Baker, Piazza dell'Emporio 28, open every day from 10am to 2am.  Tel. 0632110120. Website e Facebook
Frigo – artisan ice cream, via Marmorata 30, open every day from midday until midnight. Website
SPEAKEASY
Osteria delle Coppelle
L'Osteria delle Coppelle reigns supreme in the piazza from which it derives its name. Not straying far from the concept of the traditional osteria, you can enjoy a lunch or dinner of traditional first and second courses with a few added twists. There's saltimbocca alla romana with speck and fried sage, and on Wednesday night there's aperitivo with a dj set, drinks and little bites to eat like fried tomato pizzella or tuna tartare with guacamole and beansprouts (3 euros). You can also choose between pizza, bruschette, home made pastries (6 euros) or a huge salad (from 9 to 12 euros).  There's also the option of eating outside at the tables in the piazza. But the really cool part is the 'retrobottega', the Club Derrière, a speakeasy which is hidden away inside a white wardrobe in the osteria's back room. You enter with the password, dressed in the right outfit, ready to obey the classic speakeasy rules: don't shout, don't drink too much, don't use you're phone or you're out. Once you've carefully followed the rules it's time to focus on the drinking: beer, wine and food are banned, but you won't feel like they're missing with the array of canapé, pints and drinks brought to you by the bartenders (managed by Patrick Pistolesi), such as l'Autumn Soue with jasmine vodka, mandarine, lemon, sugar and egg white (10 euros).
Osteria delle coppelle, Piazza delle Coppelle 54. Tel. 06 4550 2826. Website Facebook
BELLE ÉPOQUE
Madeleine
For those who are partial to a Parisian vibe, head to Madeleine, a 'salon de gastronomie' in the belle époque style, located in the Prati district. It is a large and elegant place, adorned with chinoiserie and boiserie wallpaper, it's run by a very well-respected troop: chefs Simone Ballicu and Daniele Ladaga, a team of pastry chefs who are under 30, sommelier Dario Vesperini and restaurateur Carlo Angelini. Surrounded by floral tablecloths and porcelain dishes, you can enjoy traditional Roman recipes with a French twist, such as their cappuccino served with potatoes, free range eggs, crunchy artichokes and a chorizo madeleine (11 euro). The evening menu changes every two months according to the seasonal products on offer. It goes without saying that the heart of the place is the patisserie, and you can of course take away, there are many mini sweet treats like the tarte au citron meringuée (8 euros) or the macaron (2 euros) and the many types of madeleines such as a savoury versions with broccoli, garlic and oil, butter and anchovies, or a warm madeleine with pistacchio (1.50 euros to take away), or lemon and ginger with ice cream (7.50 euros). From the bakery you can head for a drink in the Boudoir where Federico Leone will impress you with his mixology. From 6pm to 2am you can taste the cinquieme arrondissement with gin, sambuca, lime, syrup and red wine (12 euros) and many other creations.
Madeleine – Salon de Gastronomie, Via Monte Santo 64, Rome. Tel. 06 372 8537. Website
A WINERY

Le Carré Français
You can also enjoy a Parisian vibe in Prati at Le Carré Français, a mini French Eataly that covers two floors (including many wine cellars) and is home to a bistro, patisserie, boulangerie and a deli where you can enjoy cured meats, cheeses, groceries and wines. There's even a cave à vin where you'll find a collection of French wines (including some unusual ones) all of which can be smelt (and tasted). Once you've had too much of the baguette, foie gras, confit de canard, and biscuits with butter and jam, you can have a  breather and then choose one of their many teas (5 euros) and have a little snack (between 3pm and 7pm) like a croque monsieur (9 euros). At the patisserie, other than the croissant and pain au chocolat there's also a crêperie, and at the bistrot you can taste dishes prepared by young chef Tiziano Noro, like melon gazpacho with Aveyron jambon and paprika breadsticks. There are also oysters available (from 14 to 25 euros).

Le Carré Français, via Vittoria Colonna 30, Rome. Tel. 06 6476 0625. Website Facebook
FOR APERITIVO
Sorpasso
Sorpasso, born as wine bar Passaguai's spin-off, will win you over with their Italian and Spanish prosciutteria (a mixed plate costs between 15 to 20 euros) and their selection of French and Italian cheeses. But its the pleasant and 'youthful' atmosphere that is unique to Rome. Among the dishes on the menu you'll find pizz'e fojje (mini pizza made of corn mixed with garlic oil, anchovies and vegetables, for 4.50 euros), Puglian red prawn carpaccio and pomegranate (9 euros), orecchiette pasta with cod and croutons, or the Trapizzino (Roman sandwich) created by Stefano Callegari. As for the desserts, which are all homemade, there's espresso-flavoured sicilian cannolo (3.50 euros) and apple, almond and cinammon tart (5 euros). The real highlight here is the aperitivo where you can indulge in the delicious cocktails made by Federico Manzone. Be prepared to queue as finding a seat (especially at the tables outside) isn't easy, but the wait will be worth it.
Sorpasso, via Properzio 31-33, Rome. Tel. 06 89024554. Website. Facebook.
ROOFTOP GARDEN

Zuma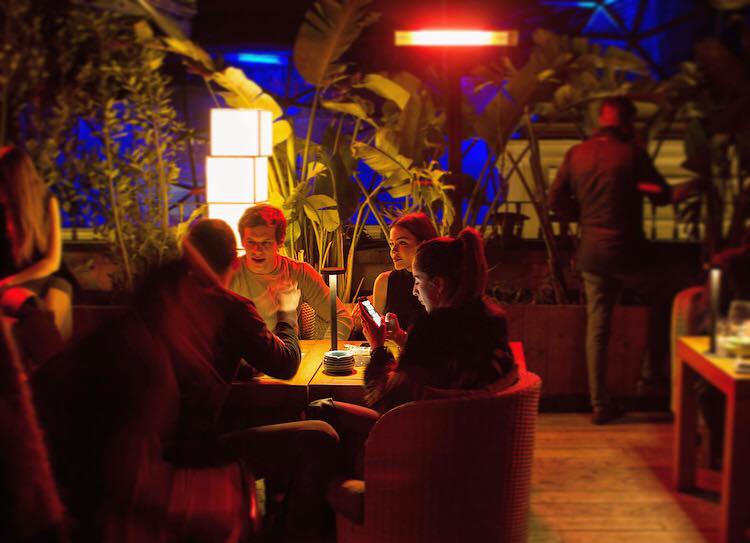 What could be more glamorous that nibbling on a piece of sashimi sitting at a rooftop terrace in the centre of Rome? At Zuma you can fulfil this dream, the trendiest Japanese restaurant found in cities like Miami, Dubai, New York and Hong Kong has chosen Palazzo Fendi for it's Italian debut restaurant. Having opened in April 2016, Zuma is furnished with hot, vibrant colours, tohiki ceramic tiles and Thai wooden tables. The menu is a mix of cold dishes, salads, dishes cooked on the robata (a type of Japanese grill), sushi and sashimi. You must try the fried calamari with lime and green chilli (8 euros), king prawns with yuzu pepper (39 euros), monkfish tempura with yuzu pepper (16 euros) and one (or more) of the 20 sake available. At lunchtime there is the option of two cheaper menus: Ebisu (28 euros per person) for two antipasti and a main dish and Ebisu Express (21 euros) with miso soup and a main course. The real bonus is the terrace (open from 5pm until late) with a view over the Fuksas dome, where the cocktail bar is centre stage and Stefano D'Ippolito's creations accompany the restaurant's many dishes (on the smaller à la carte menu).
Zuma, Via della Fontanella di Borghese 48, Rome. Tel. 0699266622. Website Facebook 
COURTYARD TERRACE

Pianostrada
Pianostrada, the restaurant run by the 'four blondes', has changed location since last November and is now found in via delle Zoccolette, in Zoc's old building. The street food menu has been added to and there's now complete menu of first and second courses. The space itself is very large and includes a long bar and lovely internal courtyard, where you enjoy an aperitivo en plein air. Don't miss the baccaburger, black squid ink panini with cod, or as a main the king prawns wrapped in courgette flowers with creamed squacquerone (a type of fresh cheese).
Pianostrada, via delle Zoccolette 22, Rome. Sito. Tel. 0689572296. Website Facebook 
ASIAN
Le Asiatique
The trend for fusion cooking certainly isn't new to Roman retaurants, but Le Asiatique really stands out. Located inside a palazzo from the 700s, the typically Roman aristocratic space is decorated with pieces of Asian art. The restaurant opened in December 2016 and the menu focuses on Japanese dishes (ramen, soba and udon) but also Chinese and Thai food. Other than sushi and sashimi, there are many other dishes prepared by chef Daniel Cavuoto that fuse the Japanese cuisine with mediterranean products. There's black cod marinated with miso on a cauliflower cream (24 euros), lobster cooked 3 ways (52 euros) and Japanese wagyu beef marinated in a soy and gochjang sauce with red fruit and scorzonera purée. There's also a large cocktail menu with an 'Asiatique Special' that is paired with the food menu. Be sure to try the Negroni Asiatique and tuna tartare (16 euros) with Mandrake Amaro, whisky and sake.
Largo della fontanella di Borghese 86a, Rome. Tel. 06 6933 0441. Facebook.
FOR ITS STYLE
Madre
Madre, the restaurant and gourmet pizzeria run by award-winning Riccardo di Giacinto, is found inside Roma Luxus Hotel and was one of the most eagerly awaited openings of 2016. Immersed in the garden, amongst water features and beautiful interiors designed by architect Danilo Maglio, you can try Italian dishes such as free range eggs with potatoes, mushrooms and white truffle (28 euros), gourmet street food like a savoury bun with burrata and anchovies from Cantabria (5 euros), or pizza (made with natural yeast) with either a tomato or focaccia base, such as the recipe with smoked provola cheese and chorizo from Bellota (16 euros). On the menu there's also a choice of South American dishes (the restaurant's speciality): ceviche (from 14 to 24 euros) and meat cooked on the parilla grill, served on a blazing hot barbeque (from 16 to 18 euros). In the main room, cocktail fans can find their way to the bar for Mezcal, Pisco and the bartender's many creations.
Madre, Largo Angelicum 1, Rome. Tel. 06 678 9046. Website Facebook
Traduzione a cura di Corinna Parker
Aperitivo on the terrace in Rome, summer 2017. What could be better than being surrounded by tropical trees and flowers, sipping on a refreshing cocktail and getting lost in thought? Summer has …
Best pizza in Rome, five places. Creativity is what it's all about. But also highly prized ingredients and skilled hands kneading the dough. From your simple Margherita to more original …
The best Japanese restaurants in Rome. The capital's streets are now filled with red lanterns that mark the entrance to the izakaya, the traditional Japanese eateries. But eating in true …