Wine bars in Rome, our top ten
Wine bars in Rome, our top ten. In the beginning it was just Cul de Sac and Cavour 313 but then the wine bar trend grew and grew. Rome's old wine shops gradually transformed into modern bars serving great food – the perfect places to enjoy a good glass of wine accompanied by a tasty morsel. And it's not just slices of cheese and cured meats, with as much attention now paid to what's on the plate as to what's in the glass. However, as time passed, Rome saw the appearance ofsòle, as they are known here in the Eternal City – rip-offs. Be it posh restaurants masquerading as wine bars or places simply serving shoddy food, it pays to be in the know when it comes to grabbing a drink in Rome. So, with promising new bars opening all the time – l'Epiro and Litro being two of the most exciting – we've compiled a list of the top 10 wine bars in Rome.
MONTI
La Barrique
Set in the atmospheric Monti district of Rome, La Barrique combines a varied wine list with some truly sophisticated dishes. The owner is Fabrizio Pagliardi, a tireless collector of wines and champagnes. After a recent refit, La Barrique now has seating outside, but our tip is to book the main dining room: the perfect, intimate setting for couples or small groups.
Opening hours: Monday to Friday 11 – 1, Saturday 11.30 – 1.30. Closed Sundays.
La Barrique, Via del Boschetto 41/b, Rome. Tel: 06/47825953.
Al vino al vino
Tourists and locals are greeted with shelves of wine, a bar with a few stools and several tables on entering this tiny yet well-equipped wine bar in the Monti district of Rome. The owner, Giacomo, is a man of few words, happy watching the football on the small television by the entrance as he prepares mouthfuls of this and that. Al vino al vino has an excellent selection of champagnes and sparkling wines, but be aware that the food offering includes only sliced cheeses and cured meats, plus an aubergine parmigiana that's a little heavy on the tomato sauce. The idea is to grab a glass of something and head outside, watching the world go by on Via dei Serpenti.
Opening hours: Sunday to Thursday 17 – 23. Friday to Saturday 17 – 01.30.
Al vino al vino, Via dei Serpenti, Rome. Tel. 06/485803.
SAN LORENZO
Il Sorì
San Lorenzo isn't a district traditionally known for the quality of its bars – particularly if you're looking for good food. There are a few exceptions to the rule, of course, with Via dei Volsci hiding a welcome change to the non-descript establishments otherwise populating the area. Sorì – which describes itself as a 'gastro wine bar' – is an intimate affair with just a few tables enclosed by walls teaming with bottles. The food is delicious, particularly the fish dishes. Try the polpo alla gallega, a Spanish octopus dish that's hard to find in Rome but done excellently here.
Opening hours: Monday to Saturday 18 – 2. Closed Sundays
Il Sorì, Via dei Volsci 51, Rome. Tel. 393/4318681.
COLOSSEUM
Bibenda WineConcept
Situated a mere stone's throw from the Colosseum, Bibenda WineConcept takes its name from Bibenda, a magazine dedicated to wine aficionados. The space is dedicated entirely to wine culture and is the brainchild of Grazia Trischitta, a sommelier who lives and breathes wine. As you can well imagine, the choice is endless, with a range of natural wines available too. There's even a Bibenda Store, where customers can buy kitchen knick-knacks. The only slight downside is the atmosphere, which is a little colder than the other bars in this list.
Opening hours: Monday to Saturday 11.30 – 15 and 17 – midnight. Closed Sundays.
Bibenda, Via Capo d'Africa 21, Rome. Tel. 06/77206673.
CITY CENTRE
Il Goccetto
Intimate and welcoming, Il Goccetto is the perfect mix between sophisticated wine shop (it stocks over 800 wines) and classic Venetian-style tavern. As you approach – strolling down the picturesque Via dei Banchi Vecchi – you can still see the old sign, which reads simply "Wine and Oil". Inside, the wines are paired with quality cured meats and cheeses, making it the ideal place for an aperitif. Popular with regular clients and tourists alike, but don't expect a young crowd.
Opening hours: Tuesday to Saturday 11.30 – 14.30 and 18.30 – midnight. Monday 18.30 – midnight. Closed Sundays
Il Goccetto, Via dei Banchi Vecchi 14, Rome. Tel. 06/6864268.
Casa Bleve
A holy grail for wine lovers, Casa Bleve was named by Italian food and wine magazine Gambero Rosso as the best wine bar in Rome for 2014, receiving the publication's highest accolade of a 'three-glass' rating. The ancient wine cellars are amongst the most beautiful in the whole city, featuring a Roman mural from the Augustan Age. The food menu is broad, ranging from salamis to meat and fish dishes, any of which are the perfect foil for a glass of wine from Casa Bleve's extensive selection. A must-visit for lovers of luxurious, classy establishments.
Opening hours: Monday to Saturday 12.30 – 15, 19.30 – 22.30. Closed Sundays and Mondays.
Casa Bleve, Via del Teatro Valle 48/49, Rome. Tel. 06/6865970.
PIAZZA BOLOGNA
Uve e forme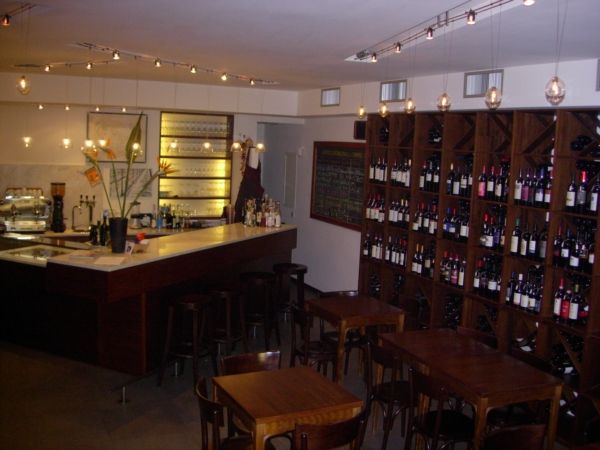 Uve e forme defines itself as a cross between a wine bar and bistro, stocking over 300 wines and serving food cooked using exclusively organic produce. There is also a strong organic and biodynamic influence running through the wine selection. Ideal for an aperitif, dinner itself or a nightcap, Uve e forme also organises wine tastings with the producers themselves.
Opening hours: Monday to Friday 12 – 00.30. Saturday 16 – 00.30. Closed Sundays.
Uve e forme, Via Padova 6/8, Rome. Tel. 06/44236801.
PIAZZA FIUME
Trimani
With an incredible choice of wines by the bottle or the glass, it is said that Trimani was the first establishment in Italy to begin calling itself a wine bar. Marco Trimani was certainly the first man to bring Brunello di Montalcino wine to Rome, on the request of none other than Italian President Giuseppe Saragat back in the 1960s. The bar came about as an extension to the Trimani wine shop, which has an inventory stocked with 5,500 Italian and foreign wines, no less. The food is tasty but not always at the same level of the wines available.
Opening hours: Monday to Saturday 11.30 – 15, 17 – midnight. Closed Sundays.
Trimani, Via Cernaia 37, Rome. Tel. 06/4469630.
L'Idillio a Roma, trattoria al Pigneto. Tel. 347 185 5708. Tra le stradine alberate del Pigneto, tra la Prenestina e la Casilina, in via Augusto Dulceri, si nasconde, timido e privo …
Wine bar Milano, le migliori enoteche con cucina. Nella Milano capitale gastronomica è importate anche bere bene. In città ci sono enoteche in cui è possibile fermarsi per eventi di …
Mozzico a Roma: birra artigianale e svojature a San Lorenzo. Mozzico è il nuovo pub (con gastronomia) di San Lorenzo: le 12 spine e il vino naturale sono solo due dei motivi che valgono …