Outdoor bars in Rome summer 2018: the best terraces and gardens for aperitivo and dinner
Outdoor bars in Rome summer 2018. Fancy a cocktail out in the open under the stars? In Rome this year  you've got plenty to choose from. Read on for our list of the 15 outdoor bars and restaurants where you should be whiling away your summer evenings in the capital.
Magick Bar
This bar with its mix of delicious cocktails, trendy design and Mexican cuisine is open every day from midday until 2am until the end of September. Located on the river, chef Emiliano Lopez mixes Mediterranean plates with more cosmopolitan influences, from sushi to ceviche, and fish dishes to cold cuts.
Magick bar, via Lungotevere Oberdan 2, Roma. Telefono 391/3986539 Facebook
Domina, Borgo Ripa
In this garden in the heart of Trastevere you can soak up the relaxed atmosphere and chilled out music. The building was originally owned in 1600 by the renowned Donna Olimpia Maidalchini, a diplomat and businesswoman who was also the sister-in-law of Pope Innocent X. The building was then run down for hundreds of years until it was recently restored and became 'Domina'. It's a favourite haunt of 25 to 35 year olds and is packed out from Monday night through to Saturday. Domina is open until 2am and you can heard there from 7pm to start your evening with a tasty aperitivo which includes gourmet pizza.
Domina, Borgo Ripa, Lungotevere Ripa 3,  tel. 388 881 6897, Facebook.
Marmo
Marmo is always a safe bet. While it is open in the winter months, in summer it really comes into its own. Open from the aperitivo hour until late, Marmo is a spacious bar with lots of greenery and even table football! There's a lively programme of concerts and jam sessions – it's without a doubt one of the best places in Rome to listen to good music while enjoying a drink. The aperitivo is usually a buffet with rice salads, vegetables and fried snacks.
Marmo, Piazzale del Verano 71, 06 4559 5904, Facebook.
Voodoo Bar and The Sanctuary Eco Retreat
Various different eateries and bar gardens have become one in this large festival space where you can enjoy live gigs throughout the summer months. In this haven you can find a spa, restaurants, a wellness and yoga zone, and an area for the performing arts. As for food, you can tuck into gourmet pizzas or even sushi fusion.
The Sanctuary Eco Retreat, Via delle Terme di Traiano 4°, 06 8379 6820, Facebook.
Blume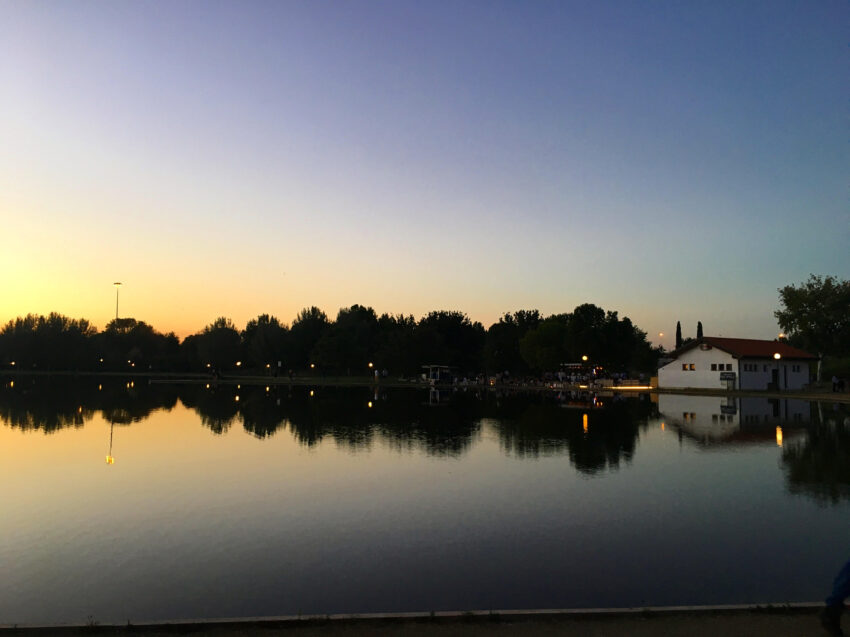 It's best to head here for aperitivo so you can enjoy the beautiful sunset over the park's lake. Then, of course, you can stay on for dinner and the live music and dj sets. You can have your aperitivo on the banks of the lake or head indoors for dinner.
Blume, viale di Tor di Quinto, 55, Facebook.
Feria – Lanificio
During the summer months you'll definitely want to head to Lanificio's terrace, Feria. Every day from 6.30pm until 2am you can head here and hang out at the cocktail bar and enjoy the delicious food, dj sets and games. In the garden there are concerts, exhibitions and some intriguing and very original performances. As for the food, from 6.30pm until midnight you can try an aperitivo of olives, crostini and patés, then perhaps share some cheese and cured meat plates. There are also various other dishes to try, as well as breakfast served as dawn breaks! At the cocktail bar, we highly recommend the Negronì, the Boulevargnac and the Vermenthe Aperitif.
Feria, Lanificio, via di Pietralata, 159/A – 3° piano, Facebook.
Satyrus
Right in front of the Modern Art Gallery you'll find this pop-up bar in the heart of Valle Giulia between Villa Borghese and Monte Parioli. Here you can witness eccentric contemporary dancers, ballerinas, jazz and swing groups in a surreal but mesmerising contest. You can also tuck into a light dinner of cous cous and fried snacks while listening to live music such as the Francesca Faro Quintet and dj sets. It's free entry.
Satyrus , Scalea Bruno Zevi, 331 949 4000, Facebook.
Magnolia
In the Foro Italico, a sports complex where international tennis championships recently ended, you'll find the Magnolia Lounge Bistro. With its own vegetable garden and eco-friendly furnishings this nighttime spot feels very alternative indeed.
Magnolia, viale delle Olimpiadi, Tel. 331 455 8887, Facebook.
'Na Cosetta
In Prenestina a three month long festival (ending in September) has taken place in a reclaimed piazza. There's a programme of concerts and exhibitions as well as food stalls selling many different types of cuisine. From tacos to maki, octopus to sushi, stuffed vegetables to potatoes.
'Na cosetta , Via Biordo Michellotti 4, tel 06 4559 8326, Facebook.
Eden Roma
This bar can be found right in the midst of a forest in the north of Rome. From 6pm you can try the aperitivo and from 9pm dinner before concluding with a cocktail as the dj plays on into the night. For dinner you can choose from pizza, pasta and panini.
Eden Roma, Piazzale dello Stadio Olimpico, 5-8, Facebook.
Le Terrazze Di Saulo
Immersed in greenery is Le Terrazze di Paulo, the first rooftop bar with a view of Basilica di San Paulo Fuori le Mura. Open from the aperitivo hour through to after-dinner drinks, here you can relax to the music and enjoy the great food and cocktails. For dinner the menu includes numerous dishes such as lasagne, ravioli, vitello tonnato, cod, pasta and more.
Le Terrazze Di Saulo, Via Ostiense 251, tel. 06 57504 61, Facebook.
Ex dogana, Molo Nuovo
In summer or winter, in rain or shine, Ex Dogana is always the place to be. There's a busy programme of events there this summer as well as Molo Nuovo, the free-entry area with food and drinks stalls for lovers of panini and beer. Every day except Monday from 6pm to 2am you can have fun hanging out here with a beer and playing table football or ping pong.
Ex dogana, Via dello Scalo San Lorenzo, 10, Facebook.
Lian Club
This classic 'boat-bar' on the Tevere is now a summer tradition. With an dedicated area for live music as well as a bar with a huge terrace and its own windmill, you're guaranteed an experience at Lian Club. A programme of music events ranges from live jazz to electronic and even dj sets. The bistro's menu is very traditional but you're guaranteed to get a sizeable portion: choose from cold cuts, artichokes alla romana, cacio e pepe or buttery fettuccine served with anchovies from Cantabria, and even hamburgers or swordfish.
Lian club , Lungotevere dei Mellini, tel. 388.9549899, Facebook.
Monk
The garden at Monk, in the Portonaccio district, opens its doors from 6.30pm. It's important to remember that Monk is part of the ARCI group so you need to be a member to get in. The restaurant area serves hamburgers as well as a few other tasty snacks, and here you can play a whole range of different games including ping pong and table football. Other than dj sets there are also workshops and exhibitions.
Monk, Via Giuseppe Mirri 35, tel. 06 6485 0987, Facebook.
Traduzione a cura di Corinna Parker
Food Events in Rome April 2018. Dinners, tastings, and aperitivi this month in the best restaurants in the city.  There are also food events such as the festival dell'arancina at …
The coolest restaurants in Rome. Invigorated by the arrival of spring, we are now getting out of the house on the hunt for good food, wine and – of course …
Mostó Rome. The much-anticipated project has two notable key-players: Ciro Borriello, the former Maitre d' of Acquolina (who did not follow chef Giulio Terrinoni to his new restaurant, Per Me) …