The best wine bars in Rome: ten of our favourites that also serve food
The best wine bars in Rome, our favourites also serving food. Sometimes an excellent wine bar can be even better than a good restaurant, and for this reason we have put together a definitive list.  Including both long standing favourites (Fafiuché, Litro) and new openings (Brylla), there are quite a few to visit.
The best wine bars in Rome
Brylla – The Trieste district
Brylla is a modern wine bar (which opened in 2016) with a a very smart idea: Coravin. A complicated name for a simple concept: thanks to an unusual contraption, the bottles can be opened but still keep well. The outcome is extraordinary, there aren't just 3 or 4 bottles to try, you can try a glass of anything on the menu. And that's hundreds of different grapes, from a more modest wine to a Chateau Lafitte, either for a taster, by the glass, half bottle or bottle. The sommelier and the owner Marcella Capaldo sure know their stuff, and there's a fairly good menu too (but you could find better).
Brylla, via Chiana 77, Roma.  Tel 06 8535 5669 Facebook
Fafiuché – Monti
Fafiuché is a small sanctuary, a haven, a shelter from life's (and Rome's) chaos. On a backstreet off Rione Monti is the wine bar which has two 'souls' thanks to the co-owners being from Piedmont and Puglia respectively. You'll find high quality Piedmont wines and also delicious dishes, such as braised meat, mixed plates of meats and cheeses accompanied by preserves. If you are lucky enough you might be able to nab one of the (few) tables outside.
Fafiuché, via della Madonna dei Monti 28, tel 06 699 0968 Facebook
Litro – Monteverde
Litro, you probably already know, is one of our favourites. It has much to say for it and little wrong with it: the location is great with a lovely outdoor space. The staff are passionate and attentive. The wine list (all organic) is excellent. The wines are made with the highest quality ingredients, unlike other wines you might find round and about. In December they are celebrating their third birthday.
Vineria Litro, via Fratelli Bonnet 5, Rome. Tel 06 4544 7639 Facebook
Sogno Autarchico – Prati
Sogno Autarchico, near the Sorpasso house, isn't particularly nice indoors – the room is crammed with a large bar, a few tables and a lounge area. But this wine bar earns a prized place on our list, thanks to Gianni Ruggiero, who is also the sommelier at Simposio. You'll find regulars here spanning all sorts of ages, who hold this bar in high regard.
Sogno Autarchico, via Properzio 32, Rome. Tel. 06/68801310 Facebook
Il Sorí – San Lorenzo 
Small and cosy, an oasis in San Lorenzo, hidden amongst an array of fast food eateries with outdoor seating and younguns (who aren't always friendly). Sorì really knows its stuff about wines, and also about cooking. As well as other delicious dishes you can try the excellent Gallega octopus (15 euros), the crispy toasted patanegra (Spanish ham, the beef tartare or wild boar cheek.
Il Sorì, via dei Volsci 51, Rome. Tel. 393/4318681 Facebook
Remigio Champagne e Vino – Appio
Remigio, which gets its name from the Saint-Rémi cathedral in the Champagne-Ardenne region, is a hidden gem between via Tuscolana and Appia. There's a wide variety of champagne and sparkling wines available, but there are also a great number of still wines to choose from. We recommend pairing a glass of wine with the steak tartare, which is one of the best around. All the dishes are, in fact, excellent, especially the crostini, pastrami, and salted cod. One of the business partners is Fabrizio Pagliardi, who is from the Barrique di Monti. Since last year it is now also open at lunchtime.
Remigio, via Santa Maria Ausiliatrice 15, Rome. Tel 06/789228 Facebook
La Barrique – Monti
And then there is Barrique, a bar which has proved very popular. Here you can have an enjoyable meal alone, at one of the wooden tables, gazing at the shelves that show off the many wine bottles. The array of wines is truly excellent, and includes some organic bottles. They also offer wine by the glass, and you can choose between slightly cheaper wines or some rather special ones. There aren't many dishes on offer, but there's always something tasty.
La Barrique, via del Boschetto 41/b, Rome. Tel 06/47825953 Facebook
Il Goccetto – Historical centre
Il Goccetto di Sergio is an institution, one of the city's first wine bars, a cult spot for Romans (including the elder generations) and tourists looking for a touch of the gourmet. They both sit by the bar waiting for an extraordinary platter of meets and cheeses which they wash down with a glass of wine. Cosy and intimate, il Goccetto is a perfect mix between a wine bar offering many bottles (800, to be precise) and a Venetian bacaro (the venetian word for wine bar). This is truly one of the best wine bars in Rome.
Il Goccetto, via dei Banchi Vecchi 14, Rome. Tel 06/6864268 Facebook
Al Vino al Vino – Monti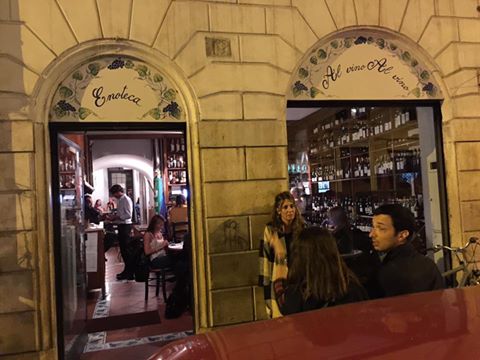 While there might not always be an enthusiastic and jolly atmosphere at Al Vino al Vino it's definitely worth a visit. Tucked away in via dei Serpenti, the owner, Giacomo, is a man of few words, who watches football games on the television at the entrance while preparing the cheese and meat boards. Unfortunately these are the only things on the menu, other than a very saucy aubergine parmigiana. We recommend taking your glass outside and watching passersby. There are a good selection of wines on offer.
Al vino al vino, via dei Serpenti 19, Rome. Tel 06/485803
Trimani Wine Bar – Fiume
Trimani Wine Bar has just celebrated its 25th birthday, and at this respectable age has certainly become one of Rome's most classic wine bars. Elegant and a little formal, there's an intimate atmosphere and an excellent kitchen. They serve an age-old dish, crostino with lard from the butcher Silvio Brarda and mozzarella. You can also enjoy carpacci, buffalo mozzarella and many other dishes. It is filled with tables, there are no stools at the bar.
Trimani, via Cernaia 37, Rome. Tel. 06/4469630 Facebook
Traduzione cura di Corinna Parker
The best restaurants in Rome where you can eat at the bar. Tired of eating alone at a sad little table in the corner of the restaurant? Fed up of …
Mostó Rome. The much-anticipated project has two notable key-players: Ciro Borriello, the former Maitre d' of Acquolina (who did not follow chef Giulio Terrinoni to his new restaurant, Per Me) …
Wine bars in Rome, our top ten. In the beginning it was just Cul de Sac and Cavour 313 but then the wine bar trend grew and grew. Rome's old wine shops …