Craft beer in Rome, the seven best pubs and bars
Pubs and bars for craft beer in Rome, the seven best. An exceptional selection on tap, focus on quality and good food to boot – here are the seven best pubs in Rome for craft beer, on draught or in bottles from Italian and international breweries. Light, dark or fruity – you name it, there's more than enough on offer including emerging producers and famous labels. If you want to drink craft beer in Rome and munch on quality street food, hamburgers or gourmet dishes, make a note of these seven spots.
AVENTINO
Queen Makeda Grand Pub
Forty beers on rotation and a finger-food train with international flavours to accompany – the Queen Makeda Grand Pub opened in December 2014 and has already made its name as one of the best pubs in Rome for craft beer. It has a large and welcoming bar, a bamboo garden for the summer, an enviable position in the city and fusion cooking in the kitchen (nothing too risky though, and enough to satisfy all tastes). As already mentioned, there are 40 beers on rotation with plenty of new brewing experimentations and up-and-coming types of beer. A 330 ml measure will set you back €5 and there are 15 kinds you simply cannot miss out on from the tap selection, including fruity Indian Pale Ales, Barley Wines, plus Weizen, Saison and Lambic beers. There's even a home brew called the Makeda, made by the Malarazza beer company at the Arrival brewery in Tuscany. A 4.8%-proof bitter ale, the Makeda has a dry, citrusy flavour thanks to the addition of orange peel and bergamot during the brewing process. If you're after bottled beer, you'll find Draco Montegioco (750 ml at €15), Oude Geuze Tilquin (750 ml at €15) and LoverBeer's BeerBera (375 ml at €8).
Queen Makeda Grand Pub, 11 Via di San Saba, Rome. Tel: (+39) 065759608. Open every day 12:00-15:00 and 18:00-02:00.
QUADRARO
Barley Wine
Based in Quadraro, one of the Roman districts that has been given a new lease of life thanks to street art and locales like this, Barley Wine enjoys a fairly large clientele, part of which has moved here from Blind Pig, another beer house four metro stops down Line A. With 12 taps on rotation and 80 different bottles from over 15 different suppliers, you never know what will be on offer from one day to the next. Prices range from €3 to €5 and cost an extra euro after 20:30. The bar staff will help you pick your way through the sea of IPAs, Pils, Blanches and Tripels offering advice and little tasters, so even novices can find something to their liking. They have bottled gluten-free beer too. Foodwise, they offer beef-based panini (veggie burgers available as well) with vegetables for €8, fried dishes (€3-€7) and desserts (€4-€5).
Barley Wine, Viale dei Consoli 115/117, Rome. Tel. (+39) 06.45687489. Open Monday to Sunday, 18:30 to 01:30.
PIETRALATA
Inofficina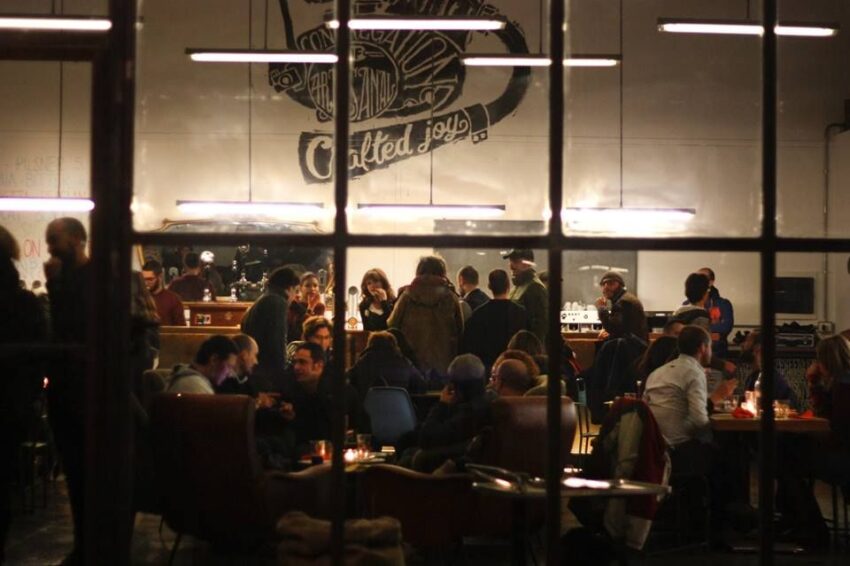 Our pursuit of craft beer goodness takes us to another area of Roma, the northeast. We're making our way to Via Mesula, on the corner with Via di Pietralata, in the heart of an old industrial district turned nightlife hub thanks to a stream of new restaurants and bars. Here we find Inofficina, a pub that's made craft beer on tap and sophisticated street food its raison d'etre. The name – literally Inoffice – is no coincidence. The pub is based in the headquarters of an old mechanic's office that's been renovated and adapted with unique furnishings created by a cooperative of prisoners from the Opera prison in Milan. The beer alone makes a trip to Inofficina worthwhile, both for its variety and quality. There are no bottled beers, only draught at €5 for a 33cl glass. The pub has a range of ever-present varieties, such as Pils/Lager, Weiss/Blanche, Belgian Ale, Tripel and Porter/Stout. But there is much seasonal rotation too, with winter bringing stronger, more warming beers that are usually consumed at slightly higher temperatures: Belgian Strong Ale, Russian Imperial Stout, Bock and Strong Bock. Summer calls for a more refreshing tipple, and so Inofficina responds with Belgian Blanche and Saison, Golden Ale, IPA and Session IPA and British Bitter Ale. The most regular labels used are Birrone's Gerica (Cascadian Lager), Punto G (Bock), Hill Top's Gallagher (Stout), Hop Hill (IPA), B94's Sant'Irene (Tripel), Birranova's Negramara, Ritual Lab's Super Lemon Ale (APA), Elav's Indie Ale (Amber Ale), Punk do it Bitter (Bitter Ale) and Beer Firm Jungle Juice's Baba Jaga (American IPA). In short, while the range of beers changes often, it never disappoints. On the food side of things, Inofficina's street food offering starts in reassuringly familiar fashion with chips (€3), but there are cacio e ova [cheese and egg] croquettes (€5), a trio of seafood croquettes (€7) and fried free-range chicken goujons (€6) too. For the hungrier patron there are burgers: choose between the vegetarian (€8) and the classic Danish beef (€9). Alternatively, check out the marinated salmon kebab with teriyaki sauce (€13). Steaks clock in at €18. All vegetables are as local as it gets, the meat comes from organic farms and all spices, cheese and cured-meat products are sourced from small-scale local producers. If you have a sweet tooth, Inofficina makes tiramisu two ways – classic or pistachio – while there's also cheesecake or apple crumble with salted biscuit and beer foam (€6).
Inofficina, Via Mesula 12, Rome. Tel. (+39) 0683707012 Open Tuesday to Sunday from 19:00 to 02:00 Facebook page
OSTIENSE
Byron
Artisanal skill meets top-quality ingredients: it's a mantra that may as well be tagged up above the threshold of Byron, a pub in the Ostiense area of Rome providing the perfect place to drink and eat, whether you're after an aperitif or after-dinner nightcap. Beer – craft, of course – is the real star at Byron. With 12 pumps and an array of rotating beers selected by distributor Domus Birrae, visitors can choose between the likes of Rurale's Scarliga, a double IPA with a bitter flavour and inky colour (€6), Birrificio del Borgo's My Antonia, a bitter yet blond Imperial Pils, or Extraomnes' Straff, a strong ale featuring a sweeter taste and amber hue. If the above has made your decision harder rather than easier, opt for a Byron tester – a tasting board of six beers for €8. The menu includes dishes from the fryer (from chips to chicken wings and even Mexican-style nachos), burgers served in an artisanal bread roll (€8.50 to €13) and a range of sweet treats, of which the cheesecake is definitely worth a try (€5.50).
Byron, Via Ostiense 73 A/B/C, Rome. Tel. (+39) 347.2140767 – Open Monday to Sunday from 19:00 to 02:00
TRASTEVERE
Luppolo Station
Luppolo Station – in the centre of Rome, just a stone's throw from Trastevere train station – was opened in March 2015 by the founders of Luppolo 12, a craft brewery in San Lorenzo. They have 20 taps offering the best Italian and international beer, washed down with dishes prepared with strictly Italian produce. Luppolo Station offers Doppelbock – Meinel 8%, Pils – Mahr's 4.9%, Pale Ale – Ventoforte 4.8%, American Magut – Lambrate 5%, Crazy Paul – Hop Skin 6.5% (half pint €3, pint €5.5); as well as a selection of the world's best bottled beers.
Luppolo Station, Via Parini 4, Rome. Tel. (+39) 065833681. Open Monday to Friday, 12:00-02:00, Saturday and Sunday 17:00-02:00.
FLAMINIA
Treebar
Treebar is a bar-restaurant with a view of the park. Its minimalist yet functional decor gives it a Scandinavian feel, inside a wooden building with lots of windows built in Piazza Manila, next to the disused railway line. Every day they bake bread, focaccia, bread sticks and pizza in their wood-burning oven using organic products from Treefarm. These include the wheat and barley malt to make their lagers, ales and their own brew 'Apart' (€5-6). Treebar is also a restaurant, with a menu ranging from home-made fettuccine (€10) to rumpsteak with roast potatoes (€17) and home-made desserts (€6-8). It is equally the ideal spot for a pre-dinner snack (€5): Tuck into a plate of finger food or head there for a post-dinner cocktail (€8-10). You'll find a young and hip clientele.
Treebar, Via Flaminia 226, Tel. (+39) 06 3265 2754
TRIONFALE
Lapsutinna
Belgian treats are in store at Lapsutinna, and not the chocolate variety. The decor has a rustic feel to it with wooden benches and tables and slightly kitsch furnishings but the selection and quality of beer (draught and bottled) is not to be sniffed at. You'll find, among others Val-Dieu Grand Cru (a rich-tasting dark ale with fruit, floral notes, 10.5%), Bloemenbier (with a hint of honey and flowers, 7%) and Gulden Draak (a well-balanced dark ale with a strong taste and light hops, well known on the international beer scene, 10.5%). And of course they have their very own Lapsutinna Beer (made with fruit inside, it has a peachy, cherry taste, is sweet and not too strong). There's a wide selection of food on offer too – mainly traditional Roman fare but you can also enjoy a selection of Belgian cheeses, hamburgers, sauerkraut and chips. Parking is not easy (this is Prati after all) and expect big crowds at the weekend.
Lapsutinna, Via Giordano Bruno 25-27, 6. Tel. (+39) 347/7844622. Open 12:00-15:00 and 19:00-02:00. Closed on Monday.
San Patrizio 2016 a Roma. Giovedì 17 marzo tutto si tinge di verde, canti, maschere, parate e processioni per il St. Patrick's Day (San Patrizio) la festa nazionale irlandese in onore del …
Le migliori pizzerie di Firenze, trionfa Napoli nel piatto. Quando si parla di Napoli e Margherita, a Firenze vince la tradizione. Ne è la dimostrazione la top ten delle pizzerie più apprezzate.
Birreria Popolare Bologna tel: 328 8894612. Dal 10 febbraio 2018 apre in pieno centro storico la Birreria popolare (con prezzi popolari): un grande loft industriale con camino, da cento posti e con …