New restaurant openings in Rome february 2017: sixteen places from Materia to Ugo, Altrove to Rosemary
New restaurant openings in Rome february 2017:  there is a great deal of variety among the new restaurant openings this season, from large established names to intimate new locales. Collegio, the new enoteca of Piazza Capranica signed by the Santarelli family (we've written about it here), should be open by the end of the month, rumors say the 27th of February. Nino Graziano will also land in the center, a great name in Sicilian restaurants. After an experience in Russia – with the restaurant Semifreddo II Mulinazzo in Moscow, successor of the starred Villafrati–Sicilian cuisine arrives in the heart of the capital, with a space for seating of more than 60 (including an outside area). With him is chef Manuele Croce and in the dining room, wife Sabine Bour.
In the meantime, as it was announced in previous months, Pipero has left the Hotel Rex for a brand new seat in Corso Vittorio Emanuele. Alexandra Pipero chose an elegant spot of around 400 square meters on two levels. In the kitchen is chef Luciano Monosillo. In Mercato Centrale in Termini the young Pier Daniele Su, who made the pizzas famous from Gazometro 38, officially left Ostiense and took the place of Romualdo Rizzuti, with his round Neopolitan.  Then in March, the new experiment that has leaked from Sbanco should open, by creator Stefano Callegari, with the young chef Sarah Cicollini in the kitchen. The format will be that of an osteria, in a space with seating for around 40.
Throughout the month we have given a count of the other openings in the capital: Viola Cucina Cruda in Monteverde, the new seat of one of the most appreciated Japanese ramen spots in the capital, Waraku, the new artisanal gelato laboratory Ciampini Lab, and the Italian-French restaurant Palatino bistrot.
And soon we'll take into account the opening of Eggs, in Trastevere, that like some of you know should be very soon. In the meantime, here are the many new openings arriving this month and in March.
New restaurant openings in Rome february 2017
SAN GIOVANNI
Materia
A caffetteria, but also a bistro and a store: Matera is coming to San Giovanni in March, the new, multifunctional café of Via Provana, a short walk from the Vatican basilica. It's a Nordic style locale, open from breakfast to dinner, with high quality products and a careful selection of ingredients. And, inside the locale – designed by StudioTamat – there is a large social table. Materia will also be a shop, selling utensils and decorative objects for the house. There are four creators: stylist Laura Barbieri, interior designer Marta Troia and Co-Managers Massimiliano Benatti and Tatiana Troia.
Materia Roma, via Andrea Provata 7, opening expected in March
TALENTI
Ugo
The Scaloni Family who are already owners of the eponymous enoteca and the restaurant in Prati, have expanded with a new multifunctional locale created by their son Fabio. Ugo is a caffetteria, enoteca and bistro. It opened to the public at the beginning of the month between Talenti and Montesacro Alto, in a large space divided up into two floors. It will have seating for about 120, to which they will add another 30, with a future outdoor space designed by architect Francesco Zarbano. Starting at 9a.m. breakfast will be served with an offering of artisanal pastries, followed by brunch with quick plates (bagels, salads, pasta and orzotti, "la merenda" (the snack), aperitivo, and finally dinner, with entrees of fish and raw foods, as well as meat and hamburgers. Most of the wines, which have been selected by the Scaloni family, are on display in the locale.
Ugo Roma, via Ugo Ojetti 95, open every day from 9:00 to 22:00. Tel. 06824199 Facebook page.
PRATI
L'Osteria Birra del Borgo
Birra del Borgo inherits the spaces of the former Romeo in Prati, which closed at the end of 2016 with big plans to reopen in Testaccio, or at least this is the intention. The new locale on Via Silla takes its name from Osteria Birra del Borgo and will open to the public on the 22nd of March. With more than 300 square meters dedicated to beer with a small installation for beer production of 24 drafts signed by the same owners, in addition a small selection of guest beer brewers, and "a quality food choice (prepared on the spot): There will be pizza from Gabriele Bonci of Bonci Pizzarium, and his bread, to be paired with mozzarella from Campo Felice, together with a rich selection of regional cheeses, and fresh pasta prepared by Taberna. Seating for about 100 will be divided up among a dining area (50 seats), lounge with couches, cocktail bar, informal seating with stools at the bar, a gathering space with 14 seats reserved for special events and finally a small art exposition, periodically staged, realized in collaboration with the Roman art gallery Varsi. In the center there is a large counter.
L'Osteria di Birra del Borgo, via Silla 26a, opening expected for the 22nd of March. Facebook page.
GIANICOLESE
Luce Bistrot
From pork ribs marinated and oven glazed with homemade barbeque sauce, served with red savoy cabbage salad to the "organic chianina " burger with lettuce, tomato, cheddar and barbeque sauce. These are some of the offerings of Luce Bistrot, grill and hamburger joint that opened in February in the Gionicolense area, one kilometer from the esteemed Da Cesare al Casaletto trattoria. The new locale is a branch of Hosteria Luce in Trastevere. In addition to the meat dishes and panini, there are also cheese and salami boards, some vegetarian offerings and fish dishes.
Luce Bistrot Roma, via Silvestri 232, open from 12:30 – 15:00 and from 19:30-23:00 Tel. 065215120. Facebook page.
TRIESTE
Bagel Town
Bagels arrive in the Trieste neighborhood under the name Bagel Town. The new locale can be found on Via Chiana 117. The new format looks to harmonize street food and quality organic ingredients. From the fusion comes different types of panini "col buco": classic at 4.50 euro, gourmet at 5.50 euro and dessert at 4. Among the "gourmet" you will find the version with N'duja, stracchino, thyme, julienned zucchini and one with smoked salmon, Thai sauce and crispy spinach.
Bagel Town Rome, via Chiana 117, open from 10:30 to 18:00. Closed Sunday. Tel. 3458956992.
OSTIENSE
Altrove
Altrove is a unique restaurant, where good food and social integration happen together. There are 250 square meters split between two floors (signed by architects Giuseppe Pellei, Paola Malavolta and Corinne Pellei) that represent the business outlet of the non-profit organization Cies that involves refugees, unaccompanied minors and youth in difficulty. The goal is to create a quality bistrot that remains open all day long where the students who complete the classes can work. They will also host future development courses.
Lorenzo Leonetti of Grandma Bistrot al Quadraro runs the kitchen (at least at the beginning). Claudia Massara, another name known in Roman kitchens (ex Convivio Troiani) created the lunch menu. Valerio Parisi is in charge of the pastries and bread. The new locale can be found in via Girolamo Benzoni 34, a short walk from Eataly in Ostiense.
Altrove Roma, via Girolamo Benzoni 34, opening expected February 17. Tel 065746576. Website and Facebook page.
PRATI
Officine Farneto Bistrot
Officine Farneto opened the new format bistro on Monday February 13. The day begins with breakfast. Officine Farneto is also a caffetteria, with special attention paid to the quality of the coffee and its production: on the coffee menu with diverse extractions (the coffee shop of reference is Lady Café), americano, espresso and the French press. Various croissants to be filled with artisanal crème (chocolate, white, pistachio, pastry crème and so on). Lunch, instead will be served as a buffet (10 euro including water and coffee). In March brunch will begin on the weekends, Saturday at 10 euros and Sunday at 18. Francesco Grassellino will be in the kitchen, with experience from Primo al Pigneto.
Officine Farneto Bistrot Roma, via Monti della Farnesina 77, open from 8:00 until 18:00. Tel. 3343779419. Website and Facebook Page.
CENTRO
Downing
Downing Square has doubled. In the heart of Largo del Teatro Valle, the second tartare bar has opened. The three guys of Downing Street store in Parioli decided to expand with an informal locale, with every detail cared for, and at moderate cost. With seating for 25 and quick service—promise the owners—for the lunch hour. The architect Federica Luciani (Quirinetta Caffe e Cucina and Lanificio) created a new space to harmonize design and good food. The new Downing Square will be open from 11:00 – 14:00 with a menu of tartare of two sizes, smaller plates to share or normal portions.  There is also delivery and take-out.
Downing Square Roma, Largo del Teatro Valle 1. Tel. 0686988018. Facebook Page.
OSTIENSE
Sorso Drink & Food
Ten beers on tap on the wall that alternate constantly, stuffed bagels, gourmet panini, and a Roman pizza with mortadella and salad. This is what you find from Sorso Drink & Food that opened recently on Via Ostiense, number 187.  A locale dedicated overall to craft beers and quality, with some quick and simple offerings to eat. They range from culatello di Zibello DOP al salami, to a "black" bagel with salmon, stracchino di bufala, citronette sauce al panino with bufala puntarelle and anchovy pesto. The bread comes directly from Prelibato, the panificio with the kitchen of Stefano Preli.
Sorso Drink & Food Roma, via Ostiense 187. Tel. 0698872803 Facebook page.
EUR
Spiriti di Vitae
"An unusual cantina, enoteca and bistrot": Spiriti di Vitae is presented like this, the new locale that has opened in Eur. The style chosen for the new enoteca is country chic, with a white interior full of light walnut colored wood, plants and retro objects. A new dining space will be dedicated to tastings, wine classes, and private dinners with a sommelier. In terms of the wine list—that also includes a careful selection of sake—the two partners Federica Christine Marzoli and Daniele Pulvirenti, both sommeliers (Federica is also specialized in whiskey).  One part of the menu is dedicated to food offerings: cheese (you can put together your own board), soup, purees, hummus and quick plates.
Spiriti di Vitae Roma, via dei Corazzieri 32. Closed Sunday. Tel. 3935303933. Facebook page.
PRATI
Sfuso
In the vicinity of Piazza Cavour Sfuso has arisen. A small spot that serves quick aperitivo every day. In the inside there are two casks from which you can get your own glass of wine (coming from the agricultural company Pucciarella in Umbria).  One eats standing inside the locale or outside with support surfaces in the shape of a bicycle. Among the menu offerings there are loaves of durum wheat filled with various sauces (4 euro): sausages, chicken curry, chili with meat and eggplant parmesan. Everything is prepared on the spot. And also: stuffed bagels and baked potatoes (British style). The creator is Federico Pegan, who has already created other spots in Rome.
Sfuso Roma, via Giovanni Pierluigi da Palestrina 72, open from Monday to Friday from 11:00- midnight. Saturday and Sunday from 17:30. Tel 0689937977. Facebook.
PRATI
Movelab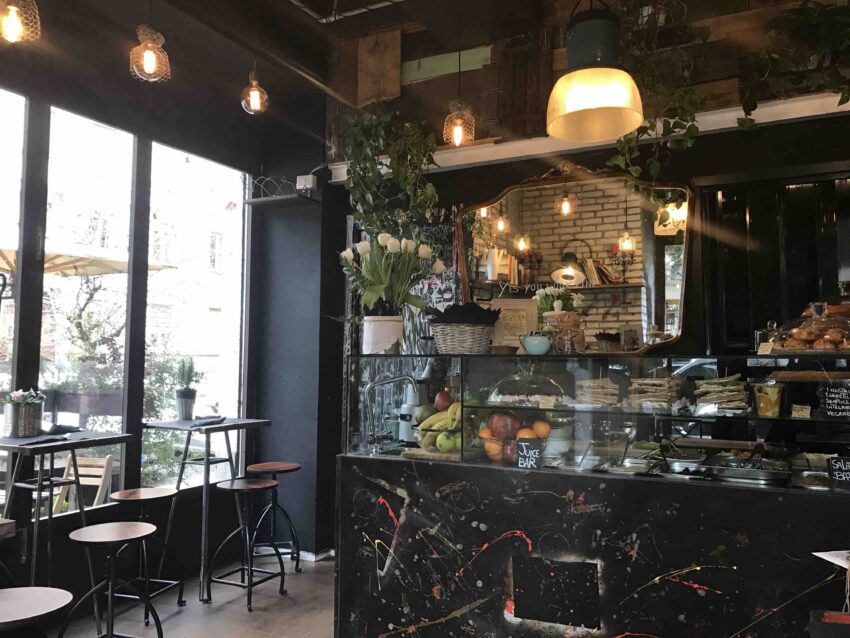 There is a new look for MoveLab, the culinary laboratory of Prati, dedicated to fast food and quality. The locale has changed face with an internal restyling and with the arrival of some new menu items, accompanied by a key with nutritional information. The place will seat around 15 inside (with additional outdoor seating) and will open at 8a.m. with breakfast and finish with dinner. The locale offers meatballs, soups and seasonal purees, burgers, avocado toast, club sandwiches, healthy plates and vegan options. Starting in April, MoveLab will become a raw bar with tartare and fish carpaccio.
MoveLab Roma, viale Mazzini 94. Open Monday to Friday from 8:00 until 22:00, Saturday until 16:00. Tel. 0689766863. Website.
ESQUILINO
Rosemary
First rate ingredients, organic if possible, of "0 Km" that are purchased from small and medium-sized businesses of the Lazio region. At Esquilino a new project has begun surrounding restaurants tied to land and local flavor: Rosemary on Via Modena. Behind this new project there is also the work of Legambiente.  The new locale is open all day. It begins with breakfast with cornetti filled on the spot, biscotti, cakes, crostata and yogurt (normal and soy) spremute, tea and infusers. At lunch there is fresh pasta, salad, rice, farro, orzo, quinoa, assorted panini, vegetables and yogurt. Take-away service is available with recyclable containers and electric bike rental.
Rosemary Roma, via Modena 14-16, open from 7:00 until 20:00, closed Sunday. Tel. 0648913645. Website and Facebook page.
TRASTEVERE
Deli Cucina & Bottega
Deli Cucina & Bottega has opened in Trastevere, in a space of twenty square meters, with a few tables and stools, as reported by the Gamero Rosso. The idea came from Antonello Gianmarco and Gianluca Verde, the first chef of Remigio and La Barrique.
This culinary laboratory offers quality cold items with panini, soups, ramen, stuffed pitas, chicken satay, salads, pastrami, sweets and so on.
Deli Cucina & Bottega Roma, vicolo del Bologna 19, open from 11:30 until 19:30 (Friday and Saturday until 22:30). Closed Sunday. Tel. 0694376470. Facebook.
APPIA
Bollicine Proseccheria
Bollicine Proseccheria found a space in the vicinity of via Appia, on the ay towards Cinecitta. It's a small locale, under family management, that its name suggests is dedicated principally to the sale and tasting of prosecco. On the menu there are also still wines, especially from the North of Italy and a small selection from the countryside. The new space also offers some cold plates to accompany the glasses of wine.
Bollicine Proseccheria Roma, Via Elvidio Prisco 41/43. Open from 9:00 until 1:00p.m. and from 16:00 until 20:00. Closed Sunday. Facebook page.
APPIA
Piadineria Zero Zero
Seating for 25, nearly 70 different piadinas, watercress, fried foods, "piadipizze," gourmet salads and smoothies. On Via Soana, in the San Giovanni area Piadineria Zero Zero has opened, a street food locale created by Lorenzo Cimarelli. The piadinas (4.5 euro) come in two different types of dough: traditional or farro, both without lard and with flour from organic agriculture.
Piadineria Zero Zero Roma, via Soana 30. Open every day from 10:00 until midnight. Tel. 3278388900. Facebook page.
The best wine bars in Rome, our favourites also serving food. Sometimes an excellent wine bar can be even better than a good restaurant, and for this reason we have …
Breakfast with a view in Rome. While we may know Rome's beautiful views very well, we never tire of them. So why not indulge in breakfast en plein air on …
Bookshop Cafes in Rome. When you're in need of free wifi to get your work or studies done, we recommend visiting one of these bookshop cafes. In each one, open …